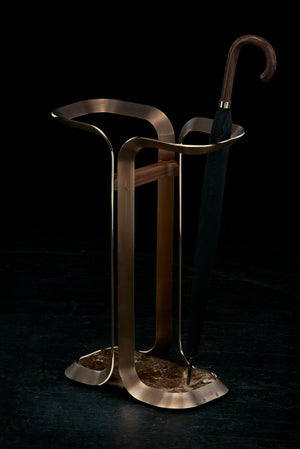 Umbrella Stand
Sale price Price $3,954.00 Regular price
The Honorific umbrella stand is hand crafted in brushed and patinated solid brass with polished edges.

The two tone finish adds depth to the material and beautifully reflects your foyer or vestibule.

The brass here, as in all our products, is unvarnished and so may develop a rich, well aged warm patina over the years.

The Emperador Dark marble surface of the base is polished to an antiqued finish in harmony with the oiled black walnut and patinated brass.

The Umbrella stand combines our signature use of materials and unrivalled craftsmanship to become a unique decorative accent in private and public entryways.
Please note that prices shown on our online shop include UK VAT of 20 % and for overseas buyers VAT will be removed at the checkout.
Dimensions
Height: 69cm (27")
Width:  51cm (20")
Depth:  23cm (9")